Tecna
is the Guardian Fairy of Technology. She studies at Alfea and is a member of the Winx Club.She is one of the protagonists of Winx Club
Personality
Tecna is really into technology. She and Timmy are fans of Tecnology. As a Zenithian, she doesn't show emotion.
Season 5
Return to Alfea
Coming Soon...
The Sirenix Book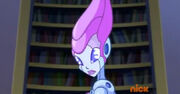 Coming Soon...
Appearance
Tecna has a short pink hair, green eyes and has a pale skin complexion.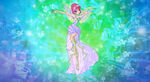 Her Harmonix consists of a tube top with a shoulder strap on the right side of her body which are light purple and light green borders with some frills on the opposite side of the strap. Her hair is longer than in her casual outfit and she has a shell crown. Her skirt is like a tutu and it is also light purple with light green borders. Behind her skirt is a veil that stops at the bottom of her shoes which is light purple and has light purple lining. Her wings are mainly purple with the top part light green and they have jewel that are connected which are fuchsia and purple. Her bottom wing border is also light green. Her shoes are light purple heels with light green and lilac straps.
Sirenix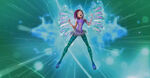 Her consists of a mermaid skin lavender tank top, a matching translucent miniskirt over sea green leggings with purple ribbons tied around it and purple high heeled ankle boots. Her hair becomes dark violet with blonde streaks. There is also a purple ribbon tied around her left arm and her seashell shaped wings are lavender with a sea green border.
Ad blocker interference detected!
Wikia is a free-to-use site that makes money from advertising. We have a modified experience for viewers using ad blockers

Wikia is not accessible if you've made further modifications. Remove the custom ad blocker rule(s) and the page will load as expected.