This article is about the episode. You may be looking for the song or the transformation.
Sirenix
is the thirteenth episode of the fifth season of the Winx Club series.
To finally obtain Sirenix and enter the Infinite Ocean, the Winx must activate the magic spring of Lake Roccaluce. However, Tritannus determined that they will fail to destroy the lake and the Winx themselves to make sure they do.
Coming Soon...
Characters
Edit
More coming soon...
This is the first time that we see Tritannus, the Winx Club and the Trix in 3D in the TV series.
This is the last appearance of the Harmonix transformation.
This is the first time that we see the Winx girls and the Trix in their Sirenix forms.
Starting from this episode, there will be a new opening sequence, but the song is still the same. The opening uses three-dimensional computer generated imagenery instead of a two-dimensional hand-drawn animation. It also includes 3D scenes of the Winx's Sirenix form, the Infinite Ocean and the official Season 5 trailer.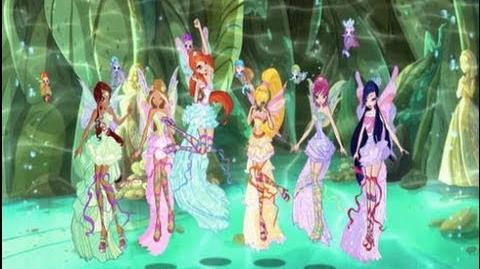 Rai Italian Cast
Edit
Coming Soon...
Nickelodeon Cast
Edit
Molly Quinn as Bloom
Alejandra Reynoso as Flora
Amy Gross as Stella
Romi Dames as Musa
Morgan Decker as Tecna, as Lemmy
Keke Palmer as Aisha Larisa Oleynik as Icy
Jennifer Cody as Darcy
Kimberly D. Brooks as Stormy
Adam Wylie as Tritannus April Stewart as Nissa
Elizabeth Gillies as Daphne
Ad blocker interference detected!
Wikia is a free-to-use site that makes money from advertising. We have a modified experience for viewers using ad blockers

Wikia is not accessible if you've made further modifications. Remove the custom ad blocker rule(s) and the page will load as expected.