Linphea
is
Flora
and Krystal's home realm. It is a planet filled with Nature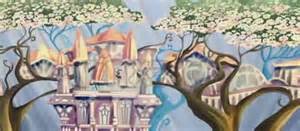 .
Appearance
Linphea lives up to its title as a planet of nature, everywhere you look you see lush greenery and natural wonders such as waterfalls.
Society
Most of the buildings seen have been on top of trees or plants and no houses have been seen on ground level. Since they are used to living in these conditions, they seem to show no fear to heights. For transportation they use bugs to fly through the air - possibly because the fumes cars use are bad for the environment.
Ad blocker interference detected!
Wikia is a free-to-use site that makes money from advertising. We have a modified experience for viewers using ad blockers

Wikia is not accessible if you've made further modifications. Remove the custom ad blocker rule(s) and the page will load as expected.