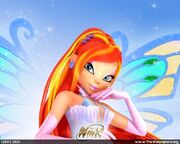 Princess Bloom

Voiced by

Letizia Ciampa (Original/Italian)
Molly C. Quinn (Nickelodeon)

Associated Selkie

Serena, Gatekeeper of Domino's ocean portal

Age

20 (Season 5)

Birthday

December 10

Origin

Domino

Affiliation(s)

Domino, Alfea, Winx Club, Specialists

Magical Powers

Dragon Flame

First appearance

A Fairy In Gardenia

Relationship(s)

Queen Marion & King Oritel (birth parents)
Mike & Vanessa (adoptive parents)
Sky (fiancé)
Andy (ex-boyfriend)
Daphne (older sister)
Princess Bloom is the princess of Domino and the guardian fairy of her realm, she is also the keeper of the Dragon Flame. She studies at Alfea and is the leader of the Winx Club. She is the main protagonists in Winx Club
Personality
Coming Soon...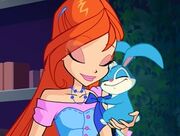 Season 5
The Lilo
Coming Soon...
The Spill
Coming Soon...
The Rise of Tritannus
Coming Soon...
Return to Alfea
Coming Soon...
The Sirenix Book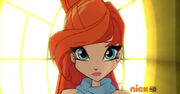 Coming Soon...
She and the Winx goes to Graynor in order to earn the boon of nature and earn a new power - Harmonix.
Bloom is at Domino for a special ceremony after Sky saved them from internal ice. She and the other Winx girls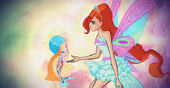 recieves a call from Musa and Tecna and the two tells them to find the Gem of Courage in the Yellow Reef. The Winx goes on, and Bloom later bonds with Serena and restored her powers. Later on, she found the Gem of Courage floating nearby and was swallowed by a monster and planned to "
snatch courage from its jaws
".
Appearance
Bloom has a red-orange hair, pale skin, big and sky blue eyes!
Harmonix
Sirenix
Ad blocker interference detected!
Wikia is a free-to-use site that makes money from advertising. We have a modified experience for viewers using ad blockers

Wikia is not accessible if you've made further modifications. Remove the custom ad blocker rule(s) and the page will load as expected.