Princess Aisha

Voiced by

Laura Lenghi (Original/Italian)
Keke Palmer (Nickelodeon)

Associated Selkie

Lemmy, Gatekeeper of Andros' Ocean Gate

Age

20 (Season 5)

Birthday

June 15

Origin

Andros

Affiliation(s)

Alfea, Winx Club, Andros, Specialists

Powers and abilities

Morphix, water-based spells

Relationship(s)

Teredor & Niobe (parents)
Neptune & Ligea (uncle & aunt)
Tritannus, Nereus, Tressa (cousins)
Princess Aisha is the princess of Andros and the Guardian Fairy. She studies at Alfea and is one of the Winx Club.
Personality
Edit
Coming Soon...
Coming Soon...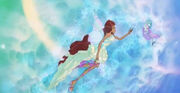 The Power of Harmonix
Edit
She along with the other Winx girls go to Graynor in order to earn the boon of the Ancestral Spirit of Nature.
The Shimmering Shells
Edit
Aisha along with Stella and Bloom goes to Andros on a mission to find the Shimmering Shells.
Appearance
Edit
Aisha has a long dark brown hair, dark skin complexion and blue eyes.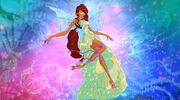 Ad blocker interference detected!
Wikia is a free-to-use site that makes money from advertising. We have a modified experience for viewers using ad blockers

Wikia is not accessible if you've made further modifications. Remove the custom ad blocker rule(s) and the page will load as expected.